Wild life and times. 61 Ghosts' frontman Joe Mazzari has lived the life of a rock n'roller which has helped shape his music.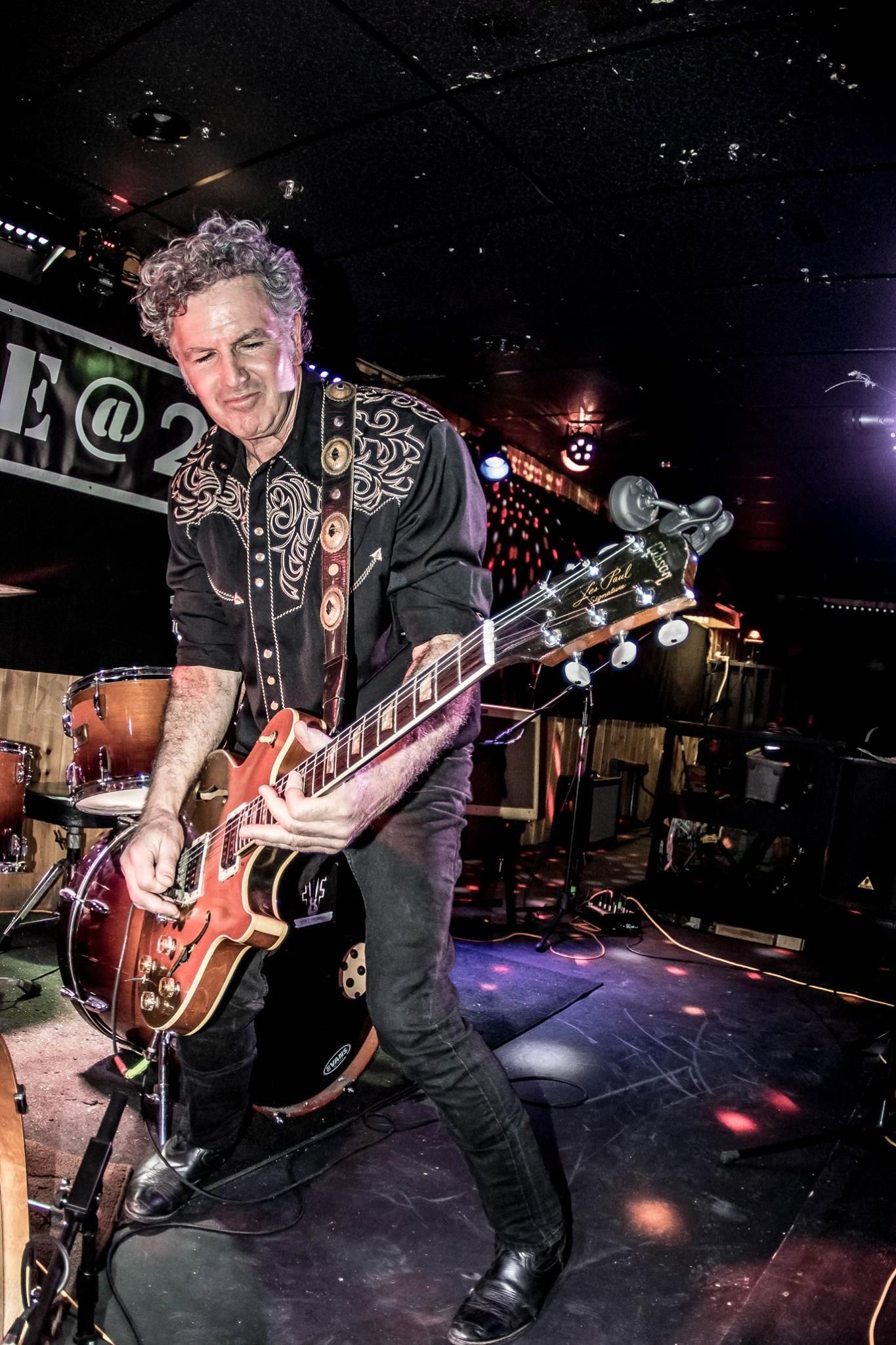 JOE MAZZARI HAS 40 years of performing everything from punk to rockabilly to Americana Outlaw to the blues. He and 61 Ghosts will play sets on Friday night and Saturday at the 25th annual Carolina Downhome Blues Festival in Camden.
TOM DIDATO, Chronicle-Independent (Camden, S.C.)  October 4, 2022
Joe Mazzari was justifiably nervous. He was a guitar player being asked to play the bass at the spur of a moment by one of his rock 'n roll idols. His playing did not measure up.
At the time in the 1980s, Mazzari, who was in his late teens or early 20s, was sitting in a room with Johnny Thunders, of the New York Dolls fame. Thunders, a punk rock legend, had enlisted Mazzari, a kid from the Boston area, to join him with his band for an upcoming tour. It was the first time Mazzari had a chance to really meet and sit down and talk to Thunders for an extended period of time.
Mazzari took a seat on what he, generously, described as a couch, before admitting it was more like a piece of used furniture which one would find next to a dumpster in an alley. Taking a quick glance around the room, Mazzari spotted was the infamous pink drum kit played by New York Dolls drummer Jerry Nolan in one corner of the room. Nolan would be part of Thunders' band which was ready to embark on a tour.
A lead guitarist himself, Thunders did not need another ax man in the group. What he needed was a bassist. What Joe Mazzari was not … was a bassist. He had no choice, however, than to make his debut with the instrument handed to him in the cramped apartment at Thunders' demand.
"He was like, "All right, play me some of the songs on bass," Mazzari said before uttering an expletive. With no recourse than having to play an unfamiliar instrument, Mazzari did as Thunders instructed.
"I played, maybe, five or 10 notes and he goes, 'No. No. No. No.' Then, he grabbed the guitar and, I swear, he played the same exact notes that I did, but he played them with authority and with confidence. 
"I thought holy (crap), he played the same exact thing that I did. It sounded completely different. Then, he looked at me and goes, 'Even if you make a mistake, you play it like you meant to play that.' That was a major turning point in my life, whether it was guitar playing or life. Just approach it like you've done it before.
"If you're not going to be confident at it, the audience will know it in two seconds and you're screwed. You've got to make it seem like you've, at least, done it before and play it with authority."
Those words … that bit of advice, from a notorious punk rocker live on in Mazzari, who fronts 61 Ghosts, who will play a pair of sets on Friday and Saturday as part of the 25th annual Carolina Downhome Blues Festival.
Having lived on the edge in joining Thunders' band some four decades ago, Joe Mazzari has settled in nicely into the blues scene with 61 Ghosts, named in honor of those blues musicians who came and went before him while traveling the blues trail from the Delta to Arkansas to Chicago. The name also goes back to the name of the song which Mazzari played and sang during his years in a rock band. Featuring a blend of blues, Americana, rockabilly, Outlaw Country and rock --- with virtually all original songs, Mazzari and his girlfriend/partner and drummer, Dixie Deadwood, play straight-ahead music with a driving beat fueled by Deadwood's martial arts-like skills with the drum sticks.
"I've never played with a drummer or a musician, for that matter, and I've been doing this for 40 years, who pays as much attention to the song as Dixie does," he said as to the integral part of the 61 Ghosts' sound in which Deadwood has become and the different she and her artistry provides to the albums and the live shows.
THE MERCURIAL DIXIE DEADWOOD provides the back beat for 61 Ghosts, who will play Friday and Saturday shows at the Carolina Downhome Blues Festival.
The 64-year-old Mazzari has a wide range of musical influences listing Bob Dylan, John Hiatt and various Delta Blues artists among those who shaped his music. At the outset of his music career in the metro Boston area, it was a junior high school friend with whom he is still friends, Simon Ritt, a drummer, who turned Mazzari on to the New York Dolls who, along with the Velvet Underground and the Stooges (featuring Iggy Pop) were at the forefront of what would become the punk scene in this country.
"At that time," Mazzari said of his decision to first pick up and learn the guitar, "he played this stuff from the New York Dolls who, at that time, I wasn't that familiar with. He played me a song named Chatterbox written by Johnny Thunders. It just blew me away. I didn't play guitar, but the way this play played lead guitar on Chatterbox, it was an 'If he can do it, I can do it,' kind of thing.
"I thought, man, I'd love to play guitar."
Move the clock ahead about a decade and Mazzari found himself in an apartment in which Thunders was living and telling his idol that Thunders' lead guitar riffs on Chatterbox was the primary reason he learned to play the guitar. Hoping that his story would strike a chord with Thunders, Mazzari was sadly disappointed.
"I was hoping to get some sort of reaction like, 'Yeah, that makes me feel good.' Instead he said to me, 'Yeah, I've heard that so many times,'" Mazzari recalled. "(Thunders' reaction) was not cold, but you could tell I was not the first person that ever said that to him."
From there, Mazzari joined and toured with Thunders. Mazzari said the universe was in perfect alignment in his meeting and playing with his rock idol. It was crazy times playing alongside Thunders, who had a substance abuse problem, and whose death, at 39, in a New Orleans hotel room in 1991 is still shrouded in controversy and secrecy. Mazzari admitted to being intimidated the first two or three times he played with Thunders and he felt a little out of his element, at first.
Before long, the two men and band mates became friends. There is little doubt, however, that Thunders' drug addiction held him down from being an even better performer than he became. The drug habit became a millstone around his neck.
"He would tell you like he told us," Mazzari said, "I wouldn't wish this on my worst enemy. I feel like he would have been a lot more productive and a lot more creative had he not gone down that road."
With his being part of a segment of the rock world which was still a few years away from becoming a global phenomenon, Mazzari scrapped the hard-driving and wild partying lifestyle which was part of punk music to settle into the calmer waters of blues.
 Playing the iconic punk rock venues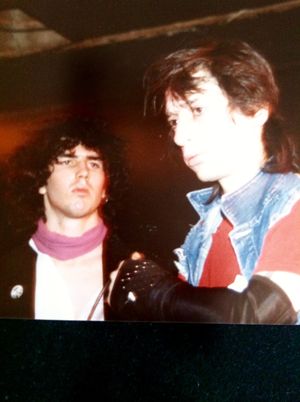 JOE MAZZARI (left) played in some of the nation's punk palaces while in the band fronted by former New York Dolls guitarist/singer Johnny Thunders.
For Joe Mazzari, who cut his rock music teeth in iconic venues such as CBGB, Irving Plaza and Max's Kansas City in New York along with The Rat and the Palace in Boston, those were the good old days. He misses those nights and how things went down, especially at CBGB, since shuttered punk landmark in Manhattan's East Village.
"The first time I went to CBGB to play I was just a kid; a teenager or, in my late teens," he said. "The band got out after the drive from Boston or, wherever we came from on the tour. At that time, the Hell's Angels were the doormen. It was mid-August and 110 degrees out and you had two Hell's Angels standing outside CBGB wearing full leather; leather jackets, leather pants. It was like, 'Wow. Dorothy, we're not in Kansas anymore.'
"You walk up to the door and in their gruff voice with a few expletives involved, they would tell you to 'Put your stuff over there, shut up and get on the stage when we tell you.' The atmosphere in those places, the attitude in places like CBGB, Max's and the Peppermint Lounge, was really different. People paid attention to the bands. People came out to see the bands."
Some two decades later, Mazzari saw audience numbers at shows dwindle as people in their late 30s and older stopped coming out to see live music. In one particular case, Mazzari recalls setting up in a club for a show that night when two college-aged girls saw the instruments and amplifiers being unloaded onto the stage for that evening's show.
"They looked at the amps and said, 'Aw, crap. There's live music tonight," he recalled with a sigh. "You haven't played a chord, yet, and you're already depressed."
To learn of Mazzari's affinity for the genre, you would have to turn the pages of time back to his childhood when his older brother would listen to records by blues artists such as Mississippi Fred McDowell, B.B. King and Freddie King, among others. The sounds attracted Joe Mazzari.
"I don't why, but it just really hit me in the gut as a little kid," he said.
Still, the money and the sound of the 80s was louder and edgier. That being the case, Mazzari joined up with The Daughters, a Boston area outfit which later became the backing band for Thunders. The Daughters gave Mazzari the opportunity to play alongside musicians such as Nolan and Walter Lure, of Thunders' band, The Heartbreakers.
After recording two albums and three years of touring with Thunders, Mazzari formed Two Saints, Jackknife Beat and the Joe Mazzari Band. While Thunders was front and center with his band, when Mazzari went out on his own, he moved to the front of the stage. For some, traveling those few steps from the back of the stage to the center can be intimidating. It was that way for Mazzari.
"I was always the guitar player. I don't think I have a very good voice, at all," he said. "As just the guitar player, bands come and go so easily. I started thinking that if I don't learn how to sing and write songs, this music thing is probably going to be a short-term thing and I didn't want it to be short term.
"I sort of forced myself into writing some songs. Then, I asked the guys if I could sing a song or two or three. The next thing you know, the band breaks up and you're saying, 'You know, if I want to keep doing this, I'm going to be singing."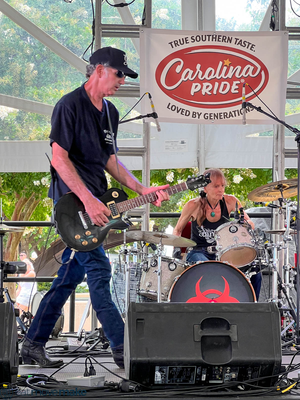 Mazzari & Deadwood, 2022 Greenwood Blues Cruise Festival, (Greenwood, SC)
Formerly a three-member band, 61 Ghosts is down to Mazzari and Deadwood. A rock duo brings to mind such pairings as the Black Keys and the White Stripes whose sounds emanate from massive speakers. That prospect, Mazzari said, 'scared the crap out of me,' when it came to his band. The duo forges on.
"This music thing … it's hard to get out of your system. So we're doing this duo," he said.
With the trio, which included bassist J.D. Snipe before he decided that he did not want to tour anymore, 61 Ghosts played a heavier blues sound than they now perform in their shows. Mazzari describes the current sound as "Outlaw American Country" in which he and Deadwood will play music which borrows from Howlin' Wolf mixed in with Waylon Jennings, Johnny Cash, Kris Kristofferson along with bluesmen such as Mississippi Fred McDowell.
"We're mixing all that with my originals," he said of what audiences in Camden can expect to hear at the band's two gigs. "It's, maybe, 85 to 90 percent originals in that style and about 10 percent covers that we think are pretty cool from people we admire. It's all what we love and if the audience likes it, that's cool.
"This music is so engrained in my heart. If you don't love what you're doing, you're just not going to do it as well as you can and it's not going to be as good as it could be if you're not passionate. 
"I never write a song wondering whether it will appeal to the audience or not. For some reason, it always seems to work. Either people are tone-deaf or, like what I'm doing. I'm not sure which." 
---
---
Front man for 61 Ghosts talks about his 'crazy and chaotic' time in rock icon Johnny Thunders' band 

Front man Mazzari, who currently lives in southern Maine, began his stage career during the Boston rock scene in the early 1980s, playing guitar and singing for The Daughters. The Daughters eventually became the backing band for Johnny Thunders, guitarist and singer-songwriter for the New York Dolls and The Heartbreakers. Mazzari equates this experience to an unlikely stroke of good fortune to spend a few years on the road and recording three albums – "Diary of A Lover," "In Cold Blood," and "Internal Possession" – with the cultural rock icon he listened to as a teen. During that time with Thunders, Mazzari played alongside musicians such as Jerry Nolan (New York Dolls) and Walter Lure (The Heartbreakers.)  I caught up with Mazzari before he left to begin touring with 61 Ghosts this spring to ask about his time with Thunders and how that influenced his subsequent stage presence. 
How did you first connect with Johnny Thunders? 
"It's kind of crazy. When I was in my late teens living in Florida my friend Simon (Ritt) and I would play an 8-track tape of the New York Dolls while driving around. I was always moved hearing "Chatterbox," especially Johnny's lead guitar, finding his playing so raw and full of passion, thinking if he can do that, why can't I? His playing, overall, had so much energy and attitude to me, and made me not only want to play music, but to play that style of rock 'n' roll. Fast forward to the early 1980s, when Simon and I played in The Daughters, we asked our manager Jim Nestor if there was any way he could arrange with Johnny's manager for us to open for him. He made it happen, and we ended up playing a number of opening slots for him. On occasion, Johnny would come up during our set and sing songs such as "Louie, Louie," "Gloria" and "Chatterbox." It was always a surreal experience for me to hear Johnny singing "Chatterbox" in my band considering he was one of the reasons I started playing guitar in the first place." 
How did the Daughters become Thunders' backing band? 
"As time went on, Johnny enjoyed playing with our band – it was the right fit for him at that time. It was a valuable opportunity for me to watch him play up close. He and his manager saw that we were dependable and passionate about playing with Johnny." 
What was it like playing in a band fronted by an artist who was a well-known drug addict? 
"It could be frustrating as hell at times. He often said he wouldn't wish his addiction on his worst enemy. I could go into a lot of stories about the difficulties of playing with a person with an addictive behavior. It took a lot of effort to work with him – he was so unpredictable.  I remember Johnny wanted to "get clean" before one of our tours. Our manager Jim (Nestor) decided his basement in Lynn, Mass., would be the best place to keep him away from his sources. What Johnny wasn't aware of is that he would be under house arrest for a few days.  There were a few years of catering to that craziness, but the experience was completely worth it." 
That sounds like a hectic time. What did you take from it? 
"Here you had this relatively slight guy commanding the stage with a huge presence. He could play wrong chords or sing the wrong lyrics, but still exuded confidence. I once asked him when he met up with David Johansen, one of his former New York Dolls band members, if he'd ever play with him again, and he answered, "Take any opportunity that presents itself to you." However, I'd like to make it clear here that there was also a nice side to Johnny. He could be generous in many ways as when he gave The Daughters one of his unreleased songs, "Are You Living," which 61 Ghosts now covers. I also enjoyed talking with Johnny about music, bands and recounting his past experiences. He had an incredibly cutting sense of humor, which I found really entertaining." 
How do you think Johnny felt being labeled as one of the original punk rock musicians? 
"He despised that description. He considered himself a rock 'n' roll musician and his influences were early rock 'n' roll, R&B and the blues. I remember the day Johnny mentioned he'd be jamming with Hubert Sumlin who was Howlin' Wolf's guitar player. Johnny didn't generally show a lot of enthusiasm, but he was definitely thrilled to play with Hubert that day." 
Drugs were pretty much considered a given during the music scene in the 1970s and 1980s. How did you manage not to get caught up in it? 
"We saw first-hand what drugs could do and we didn't want to ruin a good opportunity. I'm not going to say we were choirboys, but we knew our limits." 
What happened to The Daughters? 
"The years playing with Johnny dissolved when he had to leave the country over a legal matter. Johnny whacked a guy over the head with his guitar. I'm guessing the guy probably had it coming to him. There were lots of occasions when people in the front row thought it was okay to toss insults, beer or spit at us on stage without repercussions. Sometimes they found out it wasn't a good idea.  As far as The Daughters, we ended up having an album produced in 1982 at Euphoria Sound Studios in Revere, Massachusetts, with Jimmy Miller who worked with the RolIing Stones, Motorhead and Traffic. It was a real pleasure to work with Jimmy – a very distinguished gentleman – and specially to hear his stories of working with such influential artists of that era.  The album we created was finally released a few years ago through Rave Up Records in Italy." 
Going forward, what influence did Thunders' playing have on your subsequent bands? 
"I took that experience of just being confident on stage when I co-formed the Boston-based band, Two Saints. The band played up and down the East Coast, did three tours of the United Kingdom, released two albums and a handful of 45s. During the late 1990s, I played guitar in the English band Pussy Crush, contributing a couple of songs to their releases, and appearing with the band on John Peels' BBC radio show." 
You also fronted The Joe Mazzari Band and Jacknife Beat as well as recording a solo CD a few years ago, "Chasing 61 Ghosts," which brings us to the present. Your newest band, 61 Ghosts, is about to hit the road. Looking back at the time you spent with Thunders, is there anything you still carry with you from what you call "crazy and chaotic years?" 
 "Playing with passion, confidence and conviction. I also learned that it's okay to chase your dreams – from playing with someone you idolized as a teen driving around in Simon's Maverick, listening to the New York Dolls 8-track tape, to the present, and I'm still as passionate being on the road and writing and recording new music with Dixie Deadwood." 
Suzanne Laurent  is a freelance writer/photographer based in Portsmouth, N.H.  For more information on this article, contact writer Suzanne Laurent at 603.475.0875 or srlaurent@gmail.com
A road tested powerhouse of tenacious American blues throttled with grit and volume, the 61 Ghosts album, …to the edge, is a collection of half a dozen songs possessing a tradition all their own. Think of it as Mississippi hill country meets streetwise punk, creating a singular guitar-driven brand of music. With Joe Mazzari on lead guitar and vocals, Dixie Deadwood playing drums, percussion and adding backing vocals, get ready for the 61 Ghosts.  
 The Band's Spectral Core    
Who is your favorite guitar player? Any 61 Ghosts fan will tell you Joe Mazzari and with good reason. Flanked by professionals Dixie and J.D., Mazzari, who recorded and toured with legendary New York Dolls axe slinger Johnny Thunders is clearly the heart and soul of 61 Ghosts. If there is any question, take a listen to "Heartbeat," the opening track from the album and you can hear how the trio functions as a tightly knit crew with Joe at the helm. In between the guitar leads, rhythmic fretboard fills and lyrics, a Rolling Stones R&B-type of groove sets the pace. But there is more from …to the edge. While "World Gone Crazy" begins with a plugged-in almost stop-time swagger, "Show Me Your Scars" is an aggressively strummed acoustic cut of musical sincerity. "Passion Tipped Arrow," the only other acoustic song on the album, is no less compelling. "If Tears Were Dirt" delivers a similar expressive edginess. Unplugged or electric, live and in the studio, Joe Mazzari and the Ghosts have the situation well covered. Surely …to the edge is among 2017's best indie album picks. Available as a download or CD, the Ghosts next release will include vinyl. A Totally Domestic Sound from Joe's weathered Gibson® and Dixie's Peridore Custom Sticks drumsticks to the vintage Danelectro basses J.D. often handles, 61 Ghosts truly is an American band. That being said, the group has been likened to "being dragged behind an old Harley through the Americana Badlands." Even the name makes you think of Bob Dylan's famous "Highway 61 Revisited," a street in the US, no doubt. In fact, 61 Ghosts will be bringing its show on the road for a European tour during 2018. We caught up with Joe Mazzari where he talks about the 61 Ghosts and other matters.  
Interview with Joe Mazzari of 61 Ghosts
 You've described the music of 61 Ghosts as "primal" and "indie rock-blues." How so?
"The indie blues label is coming from a number of people in the blues world who have seen the music going in this direction for quite a while. The newer fans of blues are coming from the indie rock scene, which we're pleased about since that's primarily my background. Having been in various rock bands over the years my music has always had blues at the root. Even my acoustics are drawn from the older blues greats and also the Dylans and Lightfoots though with a bit more of a rougher edge. Dixie, who plays drums and sings backup, is very much blues influenced. She plays Mississippi hill country style. I really love the mix of the two styles that we've blended together. The primal part of our description is simply not over complicating the music. Strip down the songs; say a lot with a little. Think Howlin Wolf meets Link Wray meets Rory Gallagher with songs that hopefully pull you into the lyrics. The words are not all 'baby, baby, moon in June, left my girl' and all that. Instead, they tried to dig into a story and get to the marrow of the subject and paint a picture, but not preach. I really loved how the old blues guys could say so much with a handful of words and a moan or a howl." With songs like "Heartbeat," "World Gone Crazy" and "Show Me Your Scars," the debut album from 61 Ghosts surely is guitar-driven music, both acoustic and electric."
Do you play all of the guitars?
 "As far as the guitar playing on our CD, yes, I play the electric and acoustic. I'm the only guitar player in the band. J.D. Sipe plays bass on this album and Dixie plays drums, though she and I are primarily a duo."
 Can you tell us a little about the European tour in 2019? "We're very fortunate to have folks working with us and a part of the plan in securing a European tour for 2019.  
  "Our publicist has done a great job getting us air play and press overseas, as well as in the states. We also have our booking agent working on dates, as well as festivals here in the US. Hoping to have everything firmed up before too long." 
Being a bandmate of the legendary Johnny Thunders, do you think he could have reached the same creative highs without his notoriously addictive behavior?
 "I feel he would have reached his cult status without drugs. I had the good fortune of playing and recording with Johnny for a few years in the early 80s.Life was definitely in Technicolor for that period of time with lots of stories to be sure. But one thing I can say about the drug use is I firmly believe it held him back. He wasn't addicted in the New York Dolls and he wouldn't have had the attitude and great freewheeling style he had if he were messed up. He [Johnny] told me on many occasions he wouldn't wish his addiction on his worst enemy. The time he spent trying to get healthy he could have put into his music and a normal life. He didn't need to use to be creative. No doubt it shapes a personality and those times were the toughest to deal with. The drugs were a total waste. Lots of life lessons learned in those days. My bands saw firsthand what the results could be. Too many people learned the hard lessons."
 We have to ask about the blond semi-hollow body guitar you play in several videos. Is that the guitar you used on …to the edge?
 "The blond guitar I play is a 73 or 74 Gibson® Les Paul Signature model. I use it on stage and in the studio and have had it for decades. The original pickups rotted out from sweat a few years back. I had them replaced and a few other items, from being worn out, but so lucky to still have it. Definitely been a close friend over the years."
 Is it true the band will release the next album on vinyl? What do you like about wax recordings?
 "We're thinking about vinyl and a download for the next release as well as CDs. Vinyl has that warm sound and I love the old days of looking at the art work and reading the liner notes."
Where can fans see and hear 61 Ghosts?            
 "Fans can find us at http://www.61ghosts.com and Facebook. We're presently on between 100 -200 radio stations and still working on our CD. Dixie and I play quite a bit with lots of time on the road. We're heading back to Texas in January. We're just back from Florida, setting up the southern tour, which will end up on the west coast. And of course, there is the overseas trip next year and the festivals. We truly appreciate the interest." ~ Music Interview Magazine Paul J. Wolfle 
Interview with Joe and his chaotic days with Thunders.
Making a Scene In depth interview with 61 Ghosts! by Richard L'Hommedieu   {MP3}